luxury prefab Light Steel Villa in UAE





| | |
| --- | --- |
| Categories | Light Steel Villa |
| Brand | ZYM steel structure building Manufacturer |
| Update Time | Dec 9,2023 |
Luxury light steel villa near the sea
--------Luxury large light steel prefabricated house in UAE.
Generally the light steel frame villa size not more than 500sqm,more than 500sqm always double floor or three layer steel frame type. But if one prefabricated house size more than 1000sqm,it will be looks like a palace.
This passage will answer you the following questions:
What is the light gauge steel prefabricated villa?
Why build the light steel frame prefabricated house?
How to build a luxury light steel frame villa for your self?
Well ,let's start from Two photos: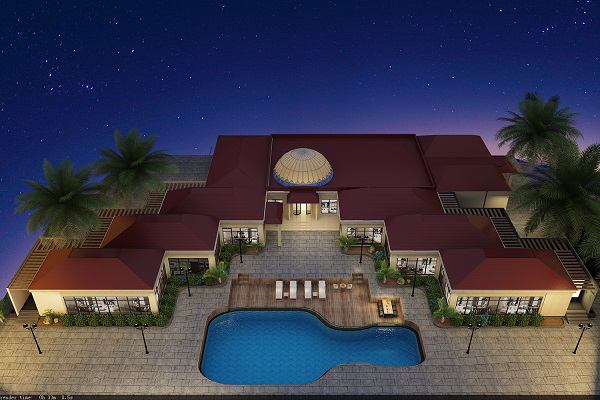 Let me introduce how we make this palace from a drawing comes to truth.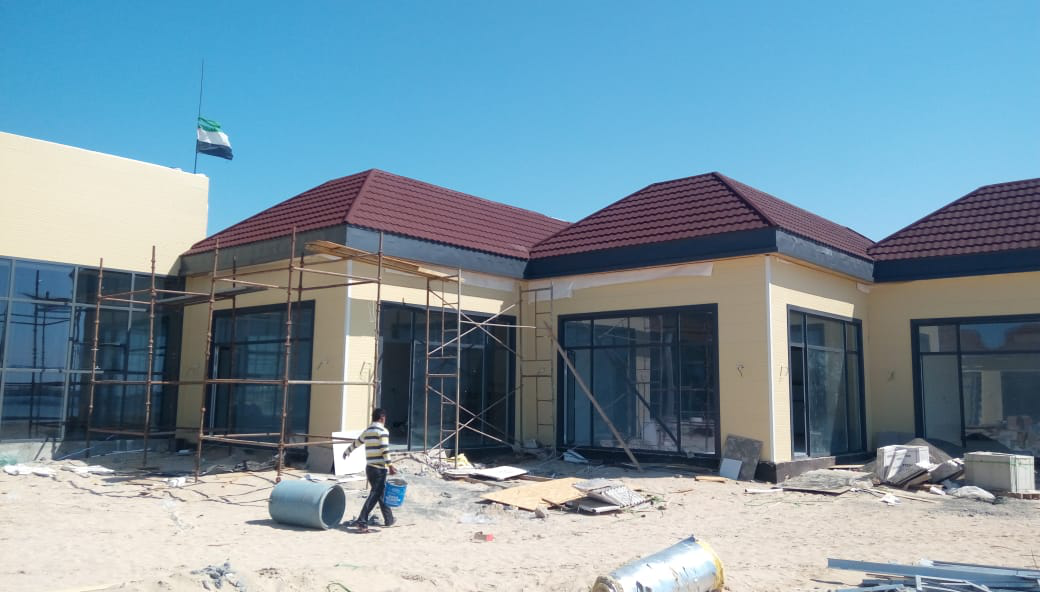 The advantages of the our Light Steel Villa:

1.Earthquake resistance of light steel houses
,
When the seismic intensity is 9th grade, it can meet the requirements of no collapse.
2.light steel residential sound insulation: wall sound insulation ≥ 45db;floor slab impact sound pressure ≤ 70db Thermal insulation, According to the requirements of the global climatic zone, the thickness of the external wall and roof insulation layer can be arbitrarily changed.
3.wind resistance: wind resistance can reach 12 typhoons (1.5KN/m2).
4.Light steel residential environmental protection: ecological recycling
5. Light steel residential safety: permanent building
Light gauge steel frame:
1. Galvanized Square tube steel and V model galvanized fastenings
2. Steel name:square tube light steel, people called: Web steel
3. Square tube Steel Standard Specification (40X40/60)
4. Every section frame is made up square tube with V fastenings : column,beam of roof, beam of floor , purline, stairs, and so on
5. Convenience installation and shipment
Wall Exterior:
1. Out panel :Metallic decoration board/ Stone painting/ Cement fiber
2. Cold region plus XPS board(1200mmX600)
3. Moisture proof paper(1.5mx0.5mm)
4. Square tube(heat insulation: filling the 150mm glass wool 12kg)
5. OSB panel(Specification 1220x2440x9/10/12/15/18mm)
Inner wall:
1. Gypsum board(Specification 1200X3000/2400mm,Thinkness: 9/12mm )
2. Interior wall use putty paint
3,Decoration board,no need Gypsum board(Client choose inner decoration board)
Floor:
1. The floor beams covered with prefabricated floor plate
2. Above the floor steel plate covered with a fine steel first 
3. Second doused with 80~120mm cement 
4. Ground of the top-level selection of ceramic tile or wood floor. Choose ceramic tile for bathroom and kitchen
Ceiling:
1. Square tube structure(filling the 150mm glass wool 12kg)
2. Choose Mineral Wool Board or Gypsum Board for the living room and bedroom, PVC Board or Aluminum ceiling for Bathroom and kitchen
Roofing:
1. Square tube roof structure
2. 12~15mm OSB panel
3. 3mm SBS modified asphalt waterproofing membrane
4. Asphalt tile / Colored steel roof tile
We will provide one-top service for your light steel house .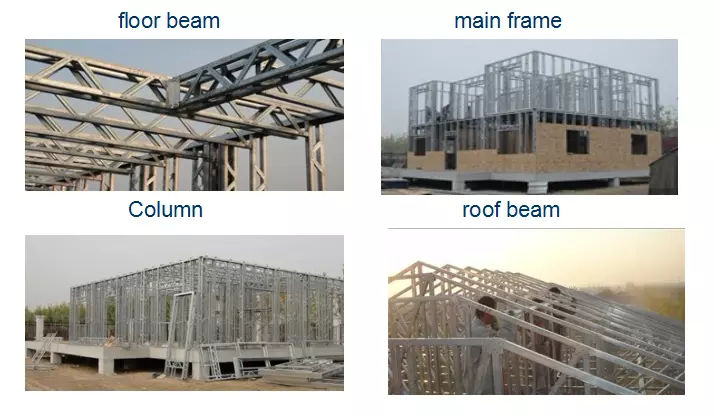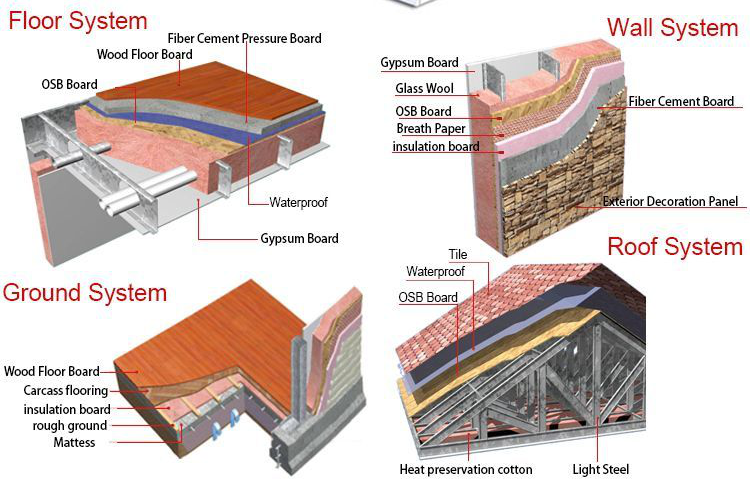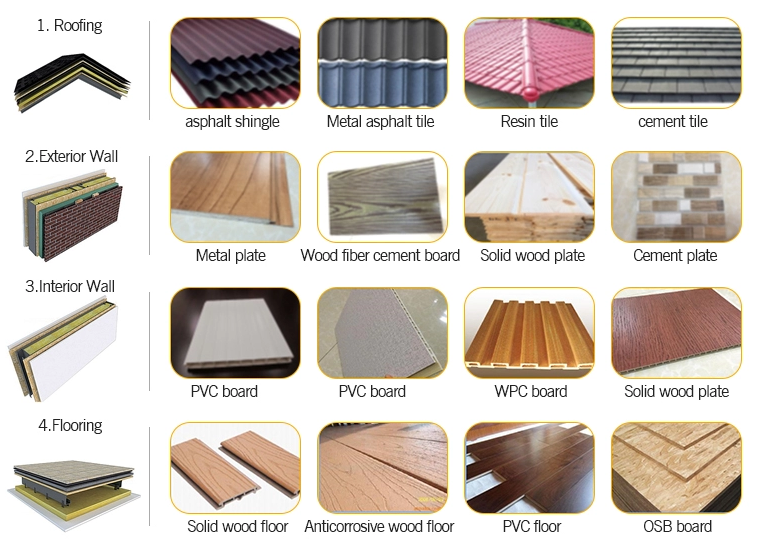 Washbasin ,shower tray ,Toilet ,lighters etc,anything you need,we will choose the best facilities from the outstanding suppliers
Design : We provide the full light villa design ,from the PDF drawing ,
3D
l
ight steel house
,
the detail construction drawings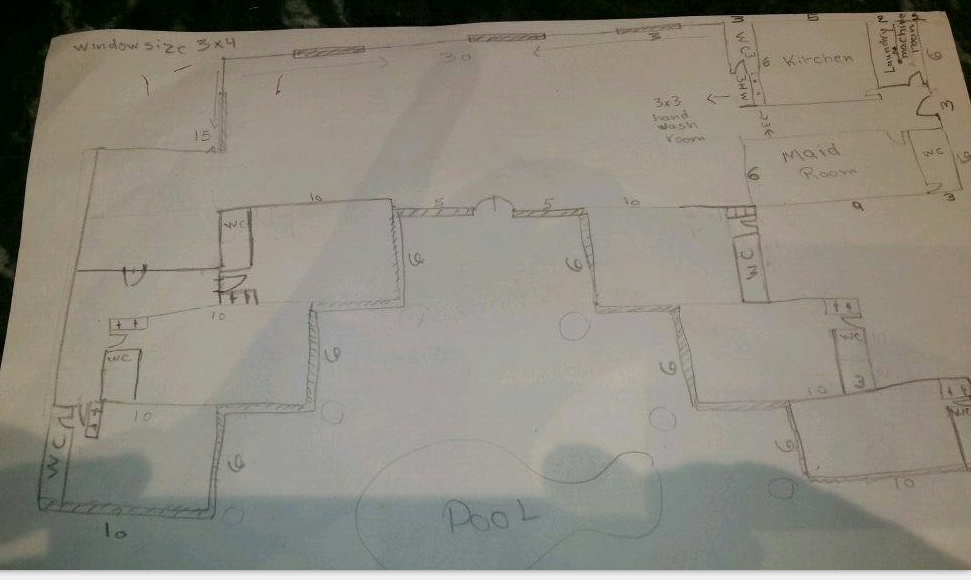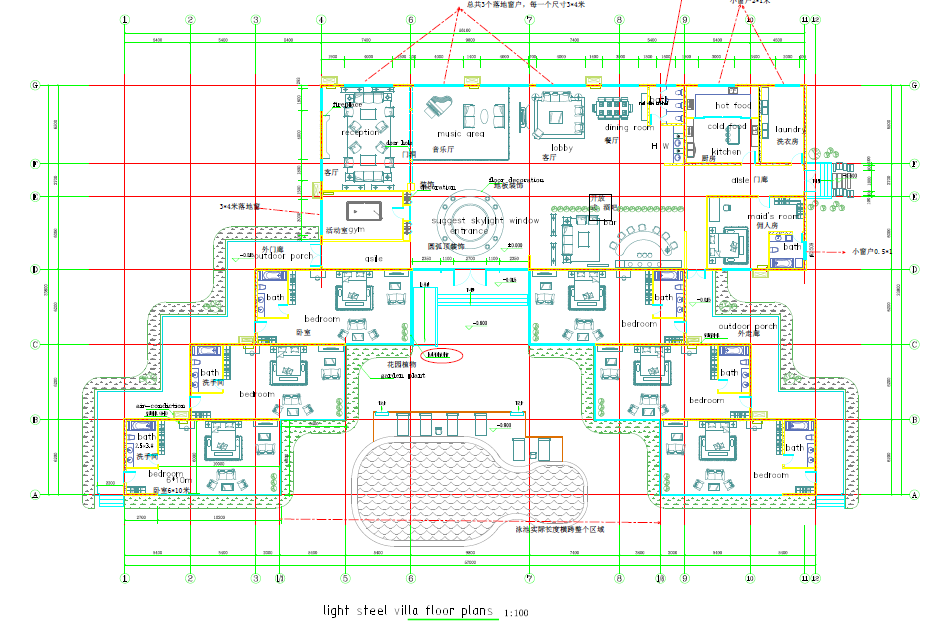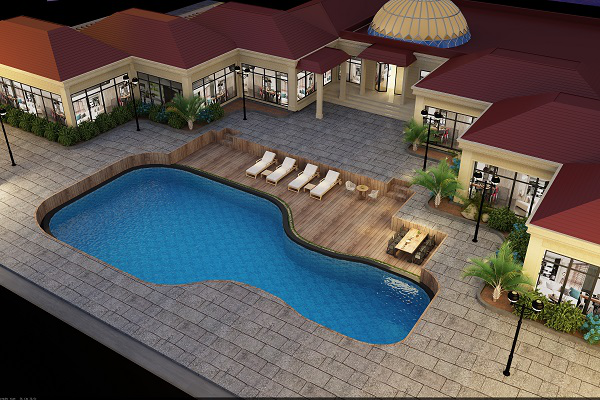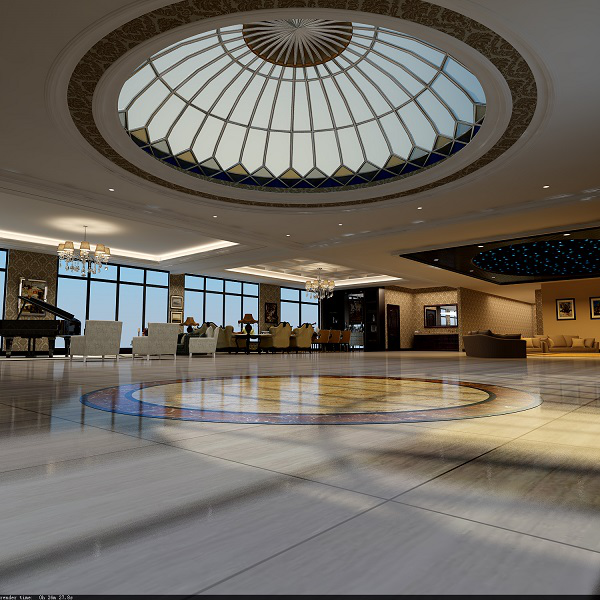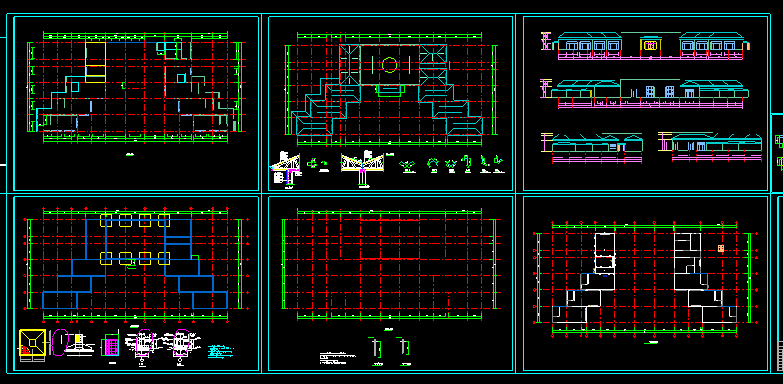 The Production and installation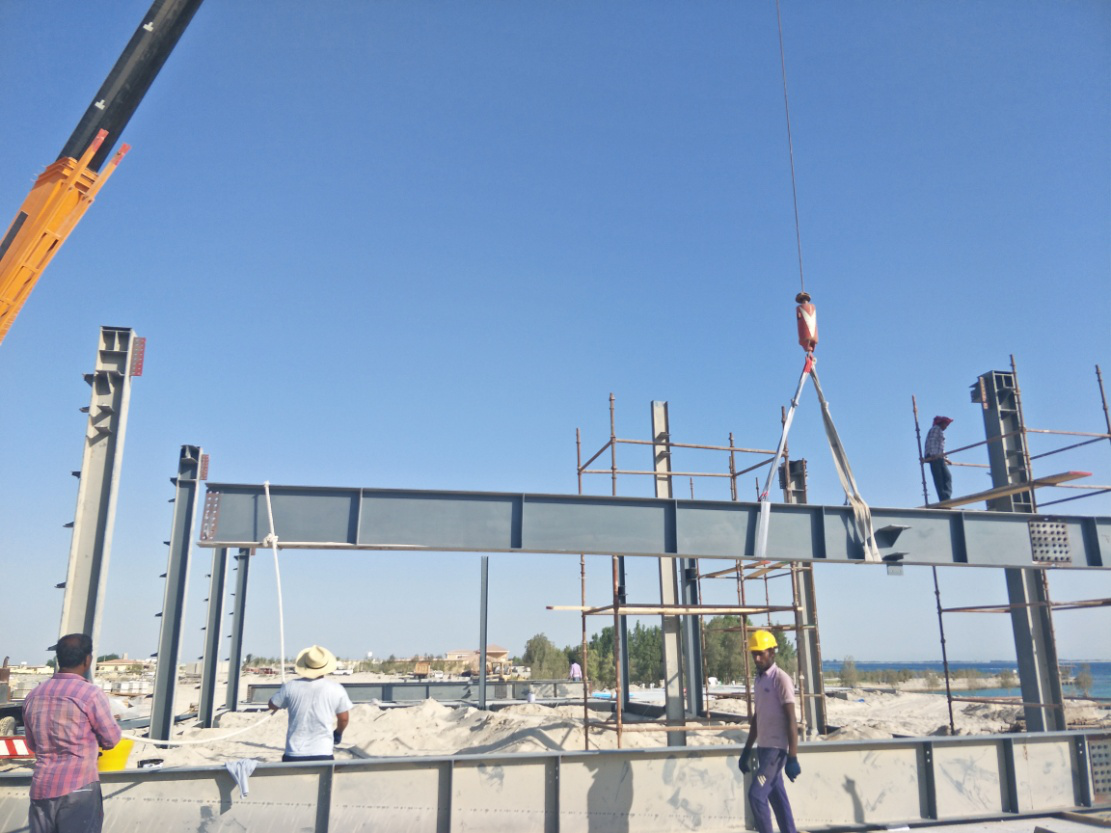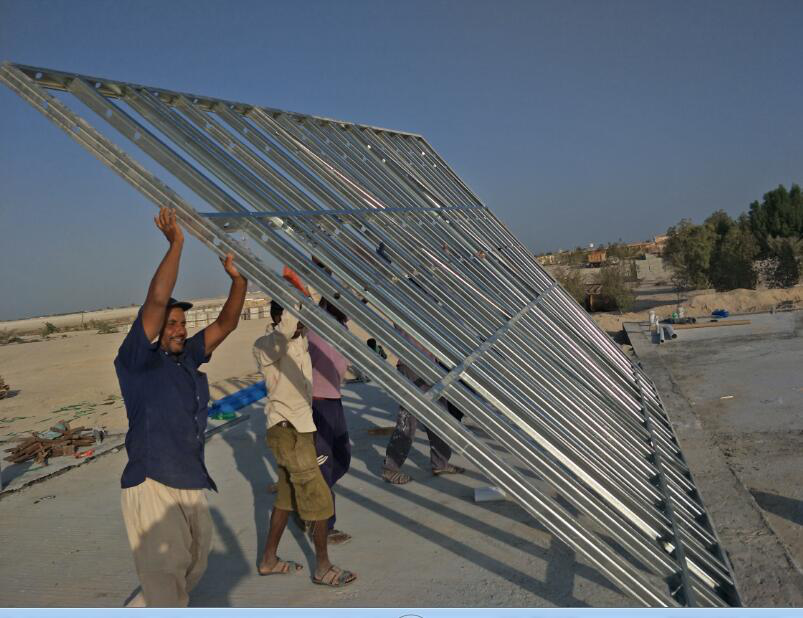 light steel structure walls and beams